Well, the title says it all! A terrible long trip was waiting for me after my India experience. India was very very interesting and a very good experience. I loved the food, I was shocked by the social gap which was clearly visible! But I really enjoyed my time there. The hotel was awesome even though they tried to rip me off multiple times.
The best example for hotel ripoff is the driver service to the airport which is 1600 ruppees while a cab merely costs you 650. I followed the advice of locals to fix a price for the taxi to the hotel (I fixed it to 700 ruppees while others who didn't do this paid up to 1400 :-)). I wanted to try a metered taxi on the way back (pretending that I knew what I did), so I asked the guys at the hotel reception to call me a taxi (easy cab) and they refused to do it (telling me that I should use the expensive hotel service). Only after 5 minutes of annoying discussion in front of some other customers (I tried to discuss the issue as publicly as possible) and asking for the hotel manager, they finally got on the phone and called me a taxi! Weird. They even claimed that I would come late if I used the taxi because it would only be available in one hour. Well, I just took their phone and called my own taxi … ripoff!
The taxi brought me to the airport in 45 minutes for less than 600 ruppees!
The airport was kind of interesting because it was so heavily guarded. I took a picture of a bunker-like military post (the guy in there had an automatic weapon). Interesting is also that you can't get in without your printed ticket (wow, I was so happy that I printed it because I usually rely on the electronic ticket).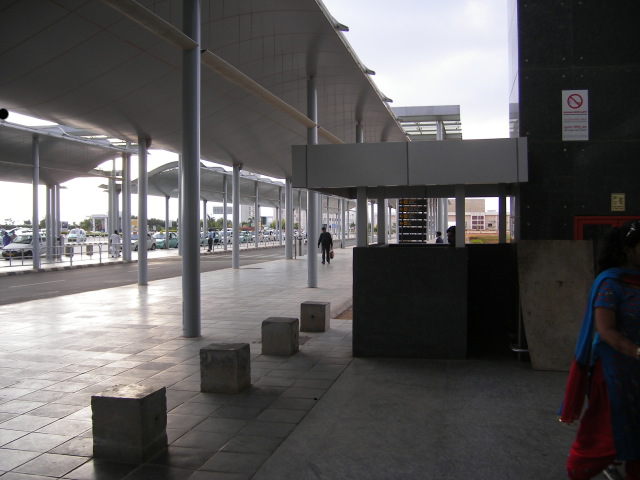 My first flight was with Jet Airways which sounded very adventurous at the beginning but turned out to be the best serviced Economy class flight I ever had. The flight to Bombay was only 1 hour but they served a full excellent meal, much better than the meals one gets on intercontinental flights with US airlines (shame!).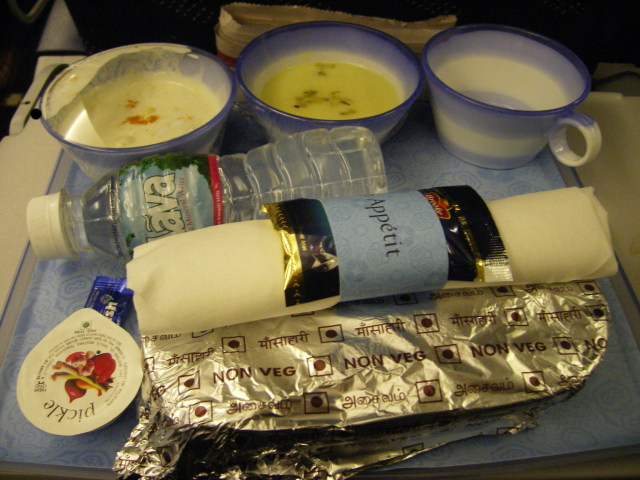 Well, everybody told me to avoid domestic flights in India, and I now know why. It's a mess, an incredible mess! I arrived at the domestic terminal in Bombay, had to pick up my luggage and stand in a ridiculously long line for the coach bus (!!!) to the international terminal. After standing in line for 30 minutes, somebody told me that I would need a ticket for the bus (wtf) and that I would get it at the very information where I asked 30 minutes ago where the bus would leave (and they did *not* give me a ticket!). Well, I "convinced" the guy who was two heads smaller than I was to get me a ticket ;-). The coach bus was ridiculous and it broke down on the way … well, I finally arrived at the terminal … outside the terminal … see by yourself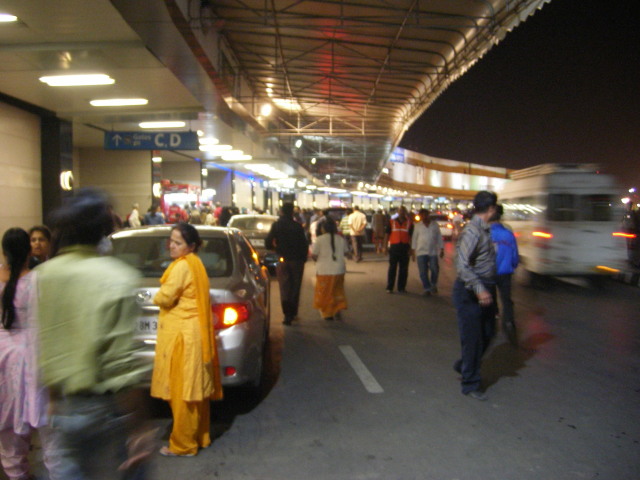 Another mess, hundreds of people cramming in front of the terminal and it felt like everybody wanted to carry my bag. Well, I made it in (after fighting for my bag) and they (fortunately) had again some soldiers checking tickets at the airport entrance.
Well, the next shocking/idiotic thing was that I had to "immigrate" in order to get to the international terminals. Well, I could barely hold my laugh when I was asked to give them the address where I would stay in India and explain the purpose of my visit. It's interesting that the lady didn't seem to understand that I was trying to leave India (seriously!). Not even the "look, there is a door to Bombay, I obviously come from India" helped. Well, I finally satisfied her steady question for an address in India finally and went on. WEIRD! My passport has now two "India Immigration" stamps. WEIRD! Well, many things didn't seem to make sense, also the guy who tried to sell me pot in the international boarding (security) area!!! He had an airport badge …
The Swiss air flight was ok, not very nice but I might have been spoiled by Jet airways. Well, I could at least sleep! The Leonardo hotel in Zurich was excellent, they even let me check in in the morning so that I could take a shower :-). The meeting was excellent as well but I fell seriously sick with a food poisoning which is still not over (nearly two weeks later). Well, I cannot recommend India too much I guess.
I left two days later for Frankfurt where I met Natalia and traveled with her back to the US. Well, US airways lost our luggage … as usual. Finally home … well, kind of because now I need to move … after the MPI Forum I guess. Too much going on in January!